EveMarie Bessenbach
Conference Co-Chair
EveMarie is the Donor and Grants Manager for the Indianapolis Opera and the Editorial Assistant for the Journal of Arts Management, Law, and Society.  She is working towards her Ph.D. in Arts Administration at the University of Kentucky where she earned her MA in Arts Administration.  Previously, she taught for the Department of Theatre and Dance at the University of Kentucky, and she served as the Director of Development for Allegro Dance Project.  EveMarie has over a decade of professional dance experience as a performer, choreographer, and teacher, and she earned her BA in Dance Pedagogy, Summa Cum Laude with Highest Departmental Honors from Butler University.  EveMarie was initiated into the Nu Circle of Omicron Delta Kappa at the University of Kentucky in 2016, and she served as the Chair of the Sponsorship Committee for the 2021 National Leadership Conference.  She is very excited about the upcoming conference!
Eric Wilken
Conference Co_Chair
Eric Wilken is a graduate student at the University of Oregon currently pursuing a PhD in economics. His research interests focus on gender inequity and the impact that acts of discrimination have on decision-making under scarcity. In addition to coursework, Eric teaches lab courses for intro economics courses. Previously, Eric taught core curriculum math courses as a graduate assistant at Ball State University in Indiana and continues this work as a math tutor for K-12 students. Eric was initiated into ODK in 2016 at Marietta College where he later served as a circle president. Eric has also served ODK as a podcast editor, the assessment chair of the 2020 ODK National Leadership Conference, and the technology chair of the 2021 ODK National Leadership Conference. Eric is excited to share with everyone the work being put into the upcoming conference!
Jess Cooper
Marketing Chair
Jess Cooper is a 2008 O∆K inductee from Maryville University of Saint Louis. By day, Jess is a Project Manager at Bonfire Effect, a Colorado creative agency. By night and weekend, she is an avid journaler, floral design hobbyist, and semi-pro question-asker. In her former life, Jess was a nonprofit consultant and PEZ dispenser collector.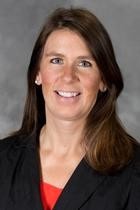 Betsy Dunn Williams
Special Events Chair
Betsy Dunn-Williams has acquired 20 years of experience in higher education, serving students and institutions specifically in service-learning, leadership development, career planning, and academic advising. She holds a Bachelor's degree in Psychology and Religious Studies from the University of Virginia and a Master of Education degree in Student Personnel in Higher Education from the University of Florida.
Betsy is a 2017 initiate of the Campbell University circle, where she serves as Circle Coordinator and the university's Director of Academic Advising. She has also served ODK on the Diversity, Equity, and Inclusivity Committee since 2019.
Betsy's own academic and career journey has been full of self-discovery and growth – including a few twists along the way – and is a source of motivation for her work with college students. Betsy enjoys helping students set goals and work to achieve them and she fiercely believes in the value of learning something new every day. In her free time, Betsy enjoys running and spending time with her family.  She is currently learning to play the electric guitar alongside her 9-year-old son…the jury is still out whether this will become a hobby!
Joel D. Hermann
Programming Chair
Joel Hermann was inducted into the Maryville University of St. Louis Circle in 2007. He earned a Bachelor of Arts in Organizational Leadership and a Master of Business Administration from Maryville University and previously served as the Circle Coordinator for the Saint Louis University Circle while earning his Master of Arts in Student Personnel Administration. Joel currently serves as Fontbonne University's Sr. Director of Leadership and Community Engagement. He has served as the Faculty Advisor of the Fontbonne University Circle since it's chartering in 2013.
Lynn Hiler
Host Chair
Lynn is the Program Coordinator for the Chellgren Center for Undergraduate Excellence at the University of Kentucky. Lynn began her career in 1988 at UK and has been a champion for thousands of students and faculty in many different roles at the University. Lynn has been awarded several outstanding staff awards and has twice served as the Chair for the UK Women's Forum and was the staff recipient of the Sarah Bennett Holmes Award for in 2009. This award is given to UK employees who have achieved professional and personal success while promoting the growth and well-being of all women at UK and the community. Lynn is the Circle Coordinator for the University of Kentucky Nu Circle.